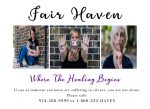 Agency Address
261 S. Brunswick Street
Service Hours
M-F 8:00AM-5:00PM
Services Description
Fair Haven's Outreach & Education Program target's domestic violence victims in Wayne, Appling and Jeff-Davis Counties who do not need emergency shelter, but are living with or in domestic violence. The Outreach Program collaborates with other community agencies to obtain the most effective resources to assist the family live a life free from the fear of violence. This program is designed for families to gain knowledge and resources to become a strong and stable family, to assist children's emotional and educational needs while being led by confident and capable parent(s). Monthly support groups are offered as well.
RESOURCE DIRECTORY CRITERIA

Health and human service programs offered by State, county or municipal governments which have offices in or serve residents of Wayne County.

Organizations that serve Wayne County. Agencies outside of the Wayne County area that meet a need for residents in Wayne County, that is not met by a non-profit or public agency within said area.

For profit agencies that provide a service not met by public or non-profit agencies. For profit agencies offering low-cost goods that are not readily available through community non-profit agencies. For profit agencies that offer free or low cost services to the community.
Advocacy groups related to health and human service issues.
Civic and business associations.
Professional organizations that provide a public service.
Private schools for special needs.
Professional and regulatory boards.
Information and referral services.
Non-profit nursing homes.
Community groups.
Chambers of Commerce.
Licensed childcare facilities.
Self-help support groups.
Social or fraternal organizations that serve non-members.
Administrative offices of public schools in Wayne County
Not Eligible to be Included:
Agencies that violate federal, state or local laws or regulations, Agencies promoting or permitting racism or bigotry,
Agencies that provide services based out of the provider's home unless licensed to do so,
Organizations (churches, social clubs, etc.) to the extent that they offer a service only to their members, Commercial businesses not described above.